Asthma attack in
last year?
Chart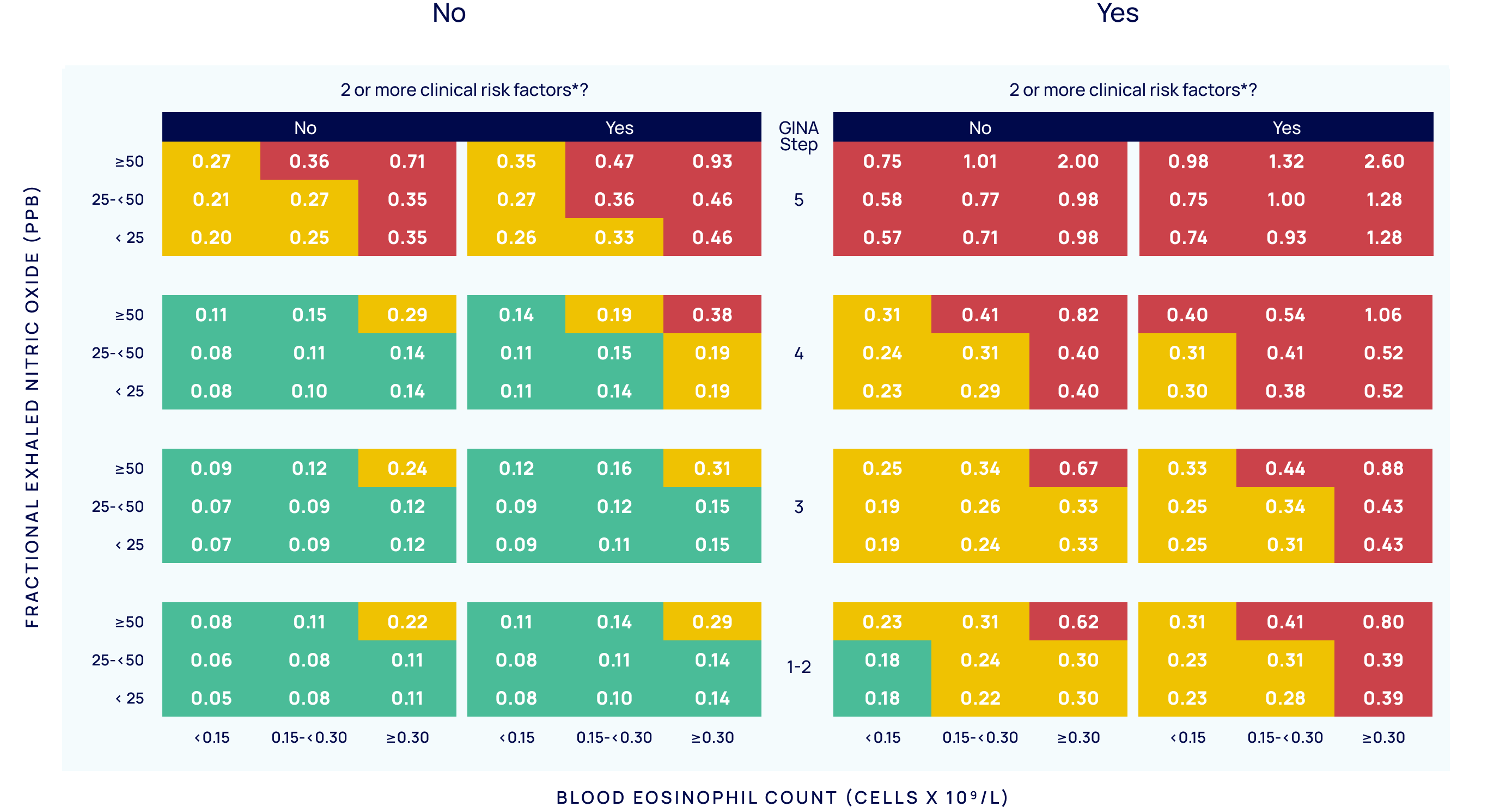 Quick


facts
Anti-inflammatory therapies (cortico­steroids or type-2 targeting biologics) have proven benefits in both acute and chronic asthma, where they prevent the occurrence of severe asthma attacks and decrease the use of oral corticosteroids. These benefits have been established to be greater in people with high-risk asthma characterised by a specific pattern of inflammation: the type-2 inflammatory phenotype, a pattern of disease that is identified in clinic using simple tests such as the blood eosinophil count and exhaled nitric oxide (FeNO).
Asthma is common chronic respiratory condition characterised by variable symptoms, airflow limitation, and bronchial inflammation.
Despite their efficacy, oral corticosteroids are overused across the spectrum of asthma severities, with evidence of toxicities arising after just 4 courses in a lifetime.
Asthma attacks are defined as a deterioration in symptoms (chest tightness, shortness of breath, phlegm, cough) or lung function from baseline. These are the cause of substantial morbidity and healthcare utilisation. Severe attacks are treated with oral corticosteroids and may lead to hospitalisation and, more rarely, to avoidable deaths.
Stratification and clinical decision
in making in asthma
Personalised, multimodal evaluation of asthma which includes an assessment of the type-2 biomarkers FeNO and blood eosinophils may lead to better treatment decisions, better asthma control, and lesser toxicities from short-term or long-term corticosteroid use. We have designed this website to lay out a potential framework for personalised risk stratification and clinical decision in making in asthma.
In this web-app, we demonstrate the use of a prototype risk stratification assessment based on five variables which include biomarkers, current asthma treatment intensity, and other clinical risk factors.
Once these variables are filled in, you will be shown a predicted number of severe asthma attacks to occur in the following year if treatment is not changed. In effect, this is the scenario where the patient would be randomised to placebo in a clinical trial. Luckily, you have the chance to change the course of that patient's upcoming year.
Following this risk prediction, personalised anti-inflammatory and non-anti-inflammatory treatment strategies are proposed depending on the patient's inflammatory phenotype.
Simon Couillard and William Do (March 2022), prepared for Locomotive.